Each Green Star rating tool has its own set of categories and credits. In this section we will be looking at the Green Star Buildings rating tool, which is specific to the design and construction of new buildings and major refurbishments.
The aim of Green Star Buildings is to deliver healthy, resilient, and positive places for people and nature as well as meet current and future demands on the built environment. This rating tool factors 5 key components:
1. Delivers a new definition of a sustainable building. This component outlines 8 categories that represent the issues the built environment will face in the next decade.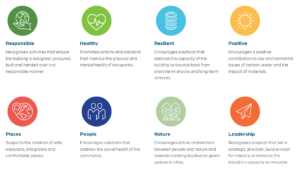 2. Meets the Paris Agreement. An aim of Green Star Buildings is to drive all buildings to be net zero carbon in operations through both operational and embodied carbon emissions. The goal is to ensure that all new Australian buildings are net zero carbon in operations from 2030 onwards. This includes being fossil fuel free, powered by renewables, highly efficient, built with lower upfront emissions and offset with nature.
3. Responds to sustainability megatrends. The Green Star Building is designed to consider the impacts against the key megatrends of the next decade to ensure it can respond to the strategic goals of governments, tenants, investors, developers and building owners.
4. Creates clear expectations for new buildings. To assist in making the rating tool understandable for everyone, all Green Star Building projects meet 10 minimum expectations:
protect environmentally significant areas
emit less carbon in construction and operations
be water efficient
have improved air, light, acoustics, and product finishes
promote physical activity
be built with climate change in mind
manage environmental impacts during construction
embrace the diversity of our population
enable practices that reduce operational waste
be verified to work
Futhermore, 6 Star rated buildings are expected to be fossil fuel free, highly efficient buildings, powered by renewables, and built with low carbon materials.
5. Delivers opportunities for supply chain transformation. Green Star Buildings wants to increase market demand for innovative, responsible, and low carbon products. This can be done by rewarding products that have lower environmental impact, are transparent, respect human rights, and are lower in carbon content and creating a driver for low carbon products by introducing a requirement that must be met to reduce their embodied carbon to achieve a rating.