A Hazard Class is defined in AS 1604 as 'the degree of hazard as prescribed in this Standard, for which the timber incorporating the brand has been treated'. In other words, it is a type of preservative treatment that timber has had applied to it, in accordance with procedures listed in the same Australian Standard. These preservative treatments are used to improve the performance of a timber in the stated application.
Hazard Classes range from Hazard Class 1 to Hazard Class 6 and vary in suitability from indoor use with protection against lyctid borer, through to in-ground marine borer protection.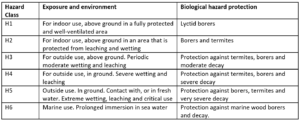 When specifying timber, it's important to know the difference between Service Class, Durability Class and Hazard Class so you can successfully choose the right timber for the right application. Although these terms are sometimes confused with one another, understanding them can give you a great indication as to which species will perform better than others under certain circumstances. We hope that this blog helps you understand the differences between the three class systems so you can make a more informed decision when choosing a timber for an application.